We, the caretakers and friends of Bimblebox are endlessly busy fighting this coal mine proposal. But on the ground there is still plenty of work to provide basic care for the Nature Refuge.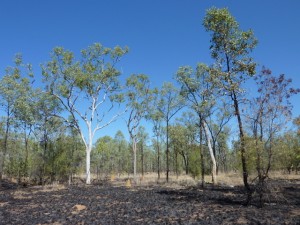 At the moment we are getting ready for a potentially bad bushfire season. The extended wet season has left us with wall to wall long, dry, grass and a rare mass germination of tree seedlings. So now we have the important job of burning wide breaks to prevent large hot fires that could destroy the precious flora and fauna. We burn the breaks at night when conditions permit, and we are looking for volunteers to help!
We are also preparing for a series of trial burns for the Queensland Herbarium to see if we can establish just how the mix of fire, weather and grazing has shaped the mix of grasses, shrubs and trees we see today. These trials will provide vital information about the best way to manage our important rangeland environments.
The shortfall in all of this is a rag-tag fire brigade. A couple of enthusiastic volunteers for a couple of months, or the piecemeal equivalent, would make our fire protection strategy a reality. It would also deliver bonus points in arguing the case against turning Bimblebox into a coal mine. This is interesting if arduous work, with plenty of opportunity to learn about fire and ecology, and to gain bush skills. Please don't delay if you have half a mind to join us.
Travel costs, food and accommodation will be provided. The days that we work depend entirely on the weather (wind). There is ample quiet time and space for study during the day, so you could bring your uni work with you.
Please help spread the word and get in touch if you are interested to find out more.
Other events throughout the year to help out on Bimblebox (like weeding out the introduced grasses after the rains) will be advertised on the Bimblebox Nature Refuge Facebook page or on this website or just give us a call.


Visitors Counter
as from Oct 2011
A call for volunteers: controlled environmental burning and more