Maureen Cooper's Quilt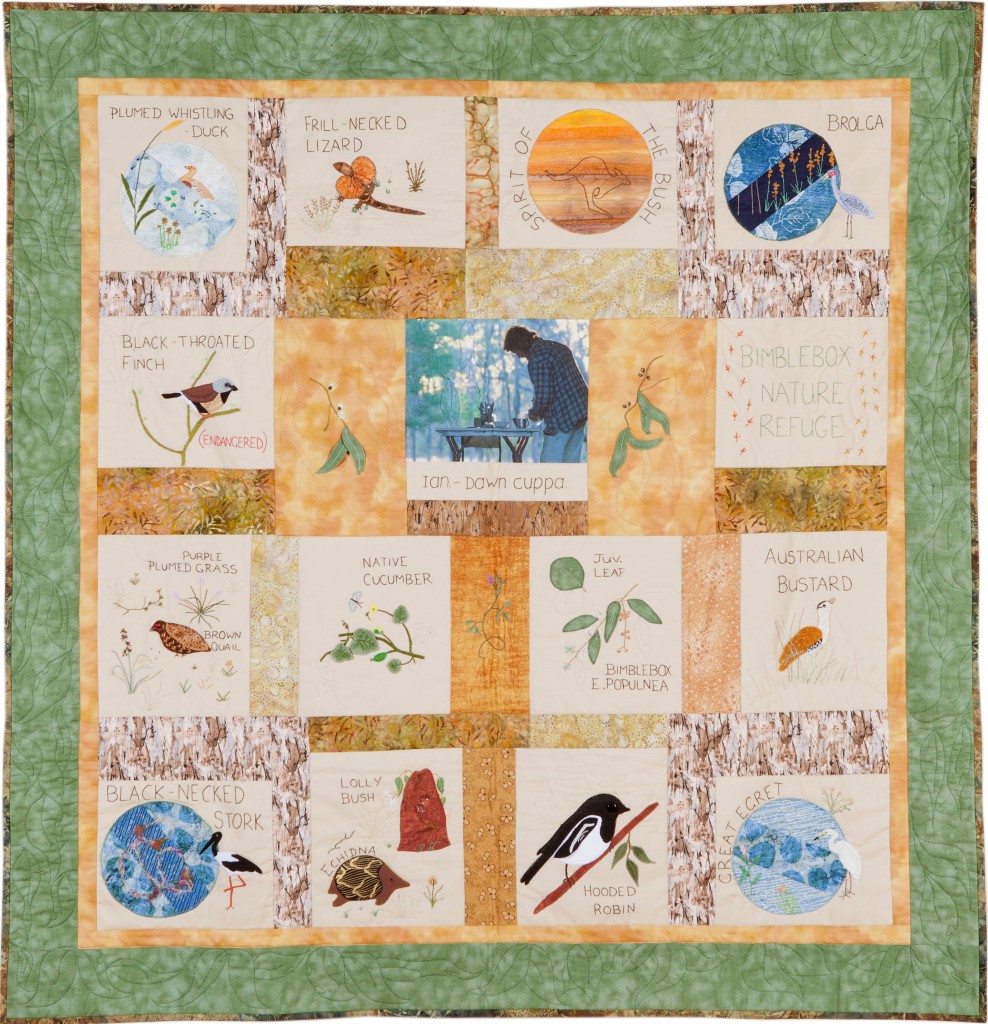 Maureen Cooper created this quilt with three techniques: applique, embroidery and machine stitching. It shows some wonderful native species amid a background depicting their habitats in the various regional ecosystems found on Bimblebox Nature Refuge.
Bimblebox caretaker Ian Hoch's love of the environment and his constant war on weeds, erosion and feral animals are central to its wellbeing and also form a centrepiece of the quilt.
Maureen Cooper used natural materials for almost 100% of the quilt; the exceptions were media used for water weed in the Black-necked Stork panel, for spider web in the brown quail panel, and for the silver fish in the Great Egret panel. Desma Versteegen of Gallery Quilting, Benalla, performed the quilting work. The completed hanging measures 130cm x 136cm.
The quilt was made with love as a fund-raising item for The Bimblebox Alliance Inc. (TBA), a not-for-profit organization working for the protection of nature refuges and other protected areas from inappropriate development. It is being displayed at annual shows at Barcaldine, Clermont, Emerald, Rockhampton, Mackay, and at the Ekka, Brisbane Royal Queensland Show. Raffle tickets are available at each venue and below and the winner will be drawn in late August in Brisbane.
Other species not noted on the panels (left to right from top):
Plumed Whistling Duck Panel – Cumbungie, sedges, Snowflake Waterlily and Floating Pondweed.
Frill-necked Lizard Panel – Comet Grass, Fire Grass
Brolga Panel – Common Rush
Hanging Eucalyptus panels depict Ghost Gum flowers and gumnuts.
Bimblebox Nature Refuge Panel – bird footprints
Brown Quail Panel – Desmodium sp., Barbed Wire Grass
Panel next to Native Cucumber – Twining Glycine
Echidna Panel – Termite mound with termites.
Great Egret Panel – Knotweed, Common Fringe Rush, Rice Sedge
How to buy a raffle ticket
Raffle tickets cost $2.00 apiece.
You may purchase raffle ticket(s) in 3 ways:
If you purchase via EFT, it is essential to (1) label your transfer with "RAF" and your last name, and (2) send an email to 
 containing your name, mailing address, phone or mobile number (required by law for raffle tickets), number of tickets purchased and amount paid, in order that we can identify your deposit on the bank statement, send your tickets to you and contact you if you are the winner.
If you order via EFT, please include an extra $1.00 for postage.
Good luck!!!
Purchase your Bimblebox Quilt raffle tickets online