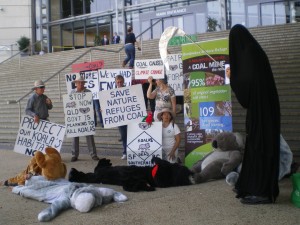 Part owner of Bimblebox Nature Refuge Paola Cassoni had a successful visit to Brisbane early this week where she gave a public presentation on the current mining threat to the 8000 hectares of remnant ecosystems on Bimblebox, participated in a protest outside the Major Projects Conference at the Brisbane Convention Centre, and met with the Queensland Minister for Infrastructure and Planning.
Paola was able to tell the minister and other government agency reps directly how it feels to have 8000 hectares of remnant ecosystems without protection from the aspirations of Waratah Coal to develop one of the biggest coal mines in the world. Recently 100 new exploration drilling holes for Bimblebox were approved by the Department of Environmental and Resource Management (DERM), without consulting or notifying the landholders.
To Paola and other effected landholders, the fact that mineral interests can annihilate all other land values feels like another round of terra nullius in Australia…. Will it take another 200 years for the government to acknowledge the injustice in current legislation?? Of course, by then it will be too late. If we are serious about protecting biodiversity and addressing climate change, the coal lobby and royalty-hungry government must be held accountable now.
Bimblebox update 16th October 2009