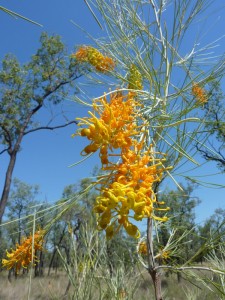 Will our representatives in Copenhagen this week admit to the power of the Australian coal lobby or the fact that in Queensland a plethora of new coal mines is assuring Australia's addiction to coal for decades to come? As if their associated carbon emissions weren't bad enough, many of the new coal mines are threatening some of the precious few private protected areas in the state.
Privately managed nature refuges have no legal protection from exploration or mining in Queensland. There are currently sixty-one Queensland Nature Refuges with coal mining exploration permits (applied for or granted) either within or adjacent to their borders. They range in size from a few hectares to thousands. Let's look at the State government's position on mining in nature refuges:

"A nature refuge does not alter any existing or future rights related to mineral or petroleum exploration and extraction. However, a nature refuge may require additional conditions on exploration and where a proposed nature refuge is considered to be of outstanding conservation significance, the conservation significance must be addressed on a case-by-case basis in relation to any proposed exploitation of the resource."
Given that there has been virtually no rejection of mining license applications in Australia, this weakly worded position does not bode well for nature refuges that sit above mineral deposits. Coal deposits are particularly plentiful in Queensland, so this inevitable conflict between coal and conservation looks set to increase.
Bimblebox Update 7th December