The Bimblebox Alliance Inc. (TBA)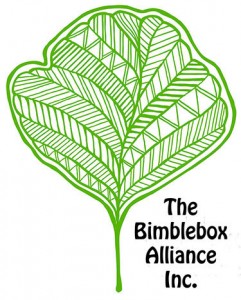 By raising the Bimblebox issue in a wide range of forums and campaigning the government to change its flawed legislation, it is our sincere hope that other nature refuge holders will not have to endure the long tedious battle to protect the biodiversity they love and care for, and which the planet needs more than ever in this time of climate uncertainty and unprecedented species decline. At Bimblebox, many volunteers have lent a hand, and not much would have been achieved without their support. We would now like to formalise this organic swell of support into a group, The Bimblebox Alliance Inc., where our collective experience accumulated over the last 6 years can be of some use to other owners of conservation properties that face strife from mining plans. There are enough challenges in caring for conservation areas as it is – from exotic species to feral animals to wild fires. Now the government is selling us out to inappropriate developments, but this just makes our resolve even stronger to preserve what little is left of our natural heritage.
We need people to influence politicians, industry leaders and other decision makers. We need to all work together. We invite you to become a member of The Bimblebox Alliance Inc. Any contribution that anyone can make toward these efforts is greatly appreciated and will help.
Current office holders
Membership
The membership fee is a one-off payment of $10 per person. The Bimblebox Alliance Inc. (TBA Inc) was formed in 2014 with the goal to protect the Bimblebox Nature Refuge and other Protected Areas through conservation and other activities. Bimblebox Nature Refuge is located in western Central Queensland and is one of the few remaining undisturbed ecosystems of this type in the Eastern Desert Uplands bioregion. For more information on the Nature Refuge please go to https://bimblebox.org/ or contact Paola on phone 07 49853459 or 07 49853474 or email bimblebox@gmail.com.
The Objects of TBA Inc are:
To protect the natural environment;
To conserve the natural values of Bimblebox Nature Refuge;
To conserve the natural values of other Protected Areas;
To undertake activities and stimulate activities to assist in conservation of existing Protected Areas;
To undertake activities and stimulate activities to assist in expansion of Protected Areas.
The Rules provide a complete outline of our aims and operating procedures.
Membership payments can be made via the AUD online form, or from overseas in USD via the online form below.
Or, you can make a direct deposit/EFT to: The Bimblebox Alliance Inc., BSB: 633 000, Account Number: 152699526, or make cheque payable to: The Bimblebox Alliance Inc. and post to: The Bimblebox Alliance Inc, c/o Joan Vickers, Treasurer, 4 Margot Court, Toowoomba. QLD 4350. If you make a direct deposit or send a cheque, please download and fill out the Membership Application and either scan and email, or mail to The Bimblebox Alliance Inc.
Donations to The Bimblebox Alliance are not tax deductible.
Please consider making an additional donation or volunteering to help us continue this work. Donations received are used to support costs associated with the protection of Bimblebox Nature Refuge and assistance to other protected areas. For printing and distribution purposes a membership application in pamphlet form (for double-sided printing) can be downloaded here.
Submission of a form confirms that you have read and will adhere to the Membership Agreement (see Application Form).
Background Information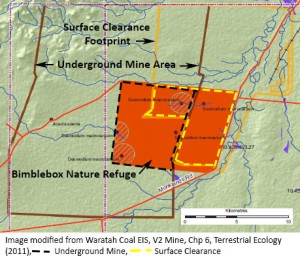 Bimblebox Nature Refuge is currently under dire threat from coal mining. The map to the right shows Bimblebox Nature Refuge, which is about 500 km west of Rockhampton and 30 km northwest of Alpha, Queensland, as an orange rectangular shape. Bimblebox is threatened by the Galilee Coal Project (aka China First), proposed by Clive Palmer's company Waratah Coal. If the project goes ahead, open-cut mining would destroy 52% of Bimblebox (the yellow line on the map shows the surface clearing footprint). The remainder of the property would be affected by subsidence from underground mining. .
The Queensland Government approved the project on 9 August 2013, and the Federal Government on 20 December 2013. Waratah Coal still needs to apply for a Mining Lease and Environmental Authority – stages of the approval process that were formerly open to public objection. However, amendments to the Queensland Government's Mineral and Energy Resources (Common Provisions) Bill on 9 September 2014 substantially limited public rights to object. The Coordinator-General also now has the power to prevent even those landholders directly affected by a mine to have their complaints heard in the Queensland Land Court.
Letter to the Minister
The Bimblebox Alliance Inc. and Protect the Bush Alliance sent a letter to The Hon Dr Steven Miles, requesting that the Land Management Online website, originally intended to facilitate communication among Nature Refuges, be re-constructed to better achieve its purpose was emailed from Minister for Environment and Heritage Protection and Minister for National Parks and the Great Barrier Reef, on 5 May 2015. The method used on the site to establish communication between Nature Refuge landholders is unnecessarily complex, and there is no way for Nature Refuges to communicate, if they wish, with the public. We requested that the site be upgraded then a message sent out to all Queensland Nature Refuges. The letter was copied to Allan Williams (Director of Landscape Conservation, Queensland Department of Environment and Heritage Protection) and Peter Spencer (Policy Adviser to Dr Steven Miles). A response was eventually received.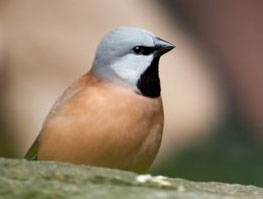 The diverse native flora and fauna that make up Bimblebox Nature Refuge would be destroyed if the Galilee Coal Project goes ahead. So far 154 bird species have been observed at Bimblebox, including the state and nationally endangered Black-throated Finch, pictured to the left, the nationally vulnerable Squatter Pigeon and the state listed Near Threatened Black-chinned Honey Eater and Black-necked Stork. In addition, 14 birds of Conservation Significance for the Desert Uplands have been recorded on Bimblebox, including the Black-necked Stork, Letter-winged Kite, Black Falcon, Australian Bustard, Bush Stone Curlew, Brown Treecreeper, Speckled Warbler, Inland Thornbill, White-eared Honeyeater, Black-chinned Honeyeater, Hooded Robin and Grey-Crowned Babbler1.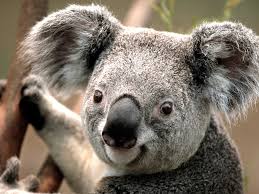 At least 45 vertebrate species are present, include the Common Wallaroo, Whiptail Wallaby, Northern Brown Bandicoot, Squirrel Glider, Rufous Bettong, Shot-beaked Echidna and Inland Forest Bat. A large number of reptile species are found, including the Mulga Snake (a species of conservation significance in the Desert Uplands bioregion), Black-headed Python, Pale-headed Snake, Frill-necked Lizard, Eastern Bearded Dragon,Central Netted Dragon, Central Bearded Dragon, Eastern Blue-tongued Lizard, Nobby Dragon, Byrnoe's Gecko and Spiny Knob-tailed Gecko1. Koala habitat is present, but the Koalas have not been sighted since early 2000's.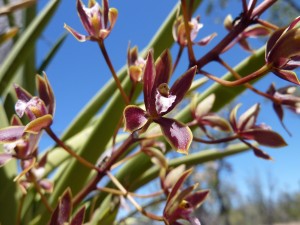 Over 96% of Bimblebox Nature Refuge consists of remnant woodland and it is one of the largest such tracts in the region2. Two of its thriving ecosystems are listed as Regional Ecosystems of Concern3. There have been 287 plant species found on Bimblebox, including the Near-Threatened Large-podded Tick-trefoil. Iconic trees include Bimblebox (Poplar Box, the main Koala food tree at Bimble box), Silver-leaved Ironbark and Brigalow. The main Koala food tree is Poplar Box, while Queensland Blue Gum and River Red Gum are also represented1. The understory flora on Bimblebox has been described as containing the greatest level biodiversity in the Eastern Desert Uplands, most of which has been cleared for grazing in the region.
For more information on natural values of Bimblebox, see the book Bimblebox – A Nature Refuge under Siege (2013), by Maureen Cooper.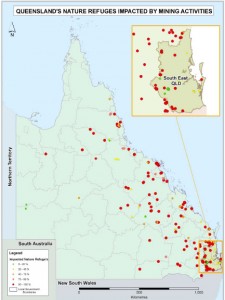 Bimblebox Nature Refuge is a precedent setting test case. As we understand it, Bimblebox is the first protected area to face the threat of mining to the degree proposed by Waratah Coal's proposed mine. According to our research a third of the 453 Nature Refuges (2014)6 throughout Queensland, are threatened by coal exploration and potential mining.
The Galilee Basin is the last of the untapped coal basins in Queensland. A few years ago, during the boom era, nine mega mines were planned. If they were to go ahead they would adversely affect local aquifers and the Great Artesian Basin. At least 400 landowners' bores would be affected. There would be significant and lasting impacts to groundwater in the vicinity of the mines. For instance, an expert report5 commissioned by Lock-the-Gate reports that the Galilee Coal Project, Alpha (pictured below) and Kevin's Corner mines alone are predicted to result in a 5m drawdown contour that would extend for an area 30km by 100km with water levels dropping up to 70m and never recovering completely. Mining companies deny impacts on the Great Artesian Basin, but expert opinion is that there is not enough information available, leaving open the potential for depletion of the Great Artesian Basin.
The map shows Queensland Nature Refuges impacted by coal exploration permits (2009). Representative distribution, showing a portion of actual number (2009)4.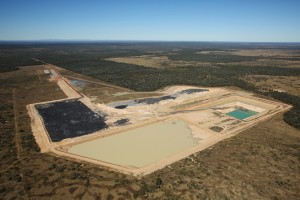 The Great Barrier Reef would be adversely affected. More than 6000 extra coal ships per year would travel through the Great Barrier Reef in North Queensland from the mega coal ports of Abbot Point (near Bowen) and Hay Point (near Mackay), raising the risk of groundings, spills and collisions, causing noise, pollution and disruption to marine flora, fauna and ecosystems and threatening its World Heritage status, according to a Greenpeace Report. These coal exports would also contribute to global warming and ocean acidifciation, both of which will impact the Great Barrier Reef.
Landholders along the proposed railway lines in the Galilee Basin face the loss of their property and way of life. Following declaration of the Galilee Basin State Development Area, 74 landholders face compulsory acquisition of their land. Graziers report that they have had very little input into the process and some feel that the State Government has walked all over them. Agricultural land will be reduced in area and fragmented, flood impacts increased, and food production in Central Queensland will decline7.
Burning of coal is a major contributor toward anthropogenic climate change. Australia needs to take responsibility for its contribution to world climate change, the argument that someone else will provide the coal if Australia does not, is not an acceptable argument. It is now understood that 80% of the world's remaining fossil fuels must be left in the ground if we are to avoid dangerous climate change8.
At the 11th hour, what can we still do? There is still a chance that the plan to turn the Galilee Basin into a series of giant coal mines will not succeed. The question of the effect on the Great Artesian Basin is far from resolved. GVK and Adani are Indian based companies interested in the riches of the coal in the Galilee but both are held up in the Queensland Land Court by environmental groups and landowners. The price of coal is very low and still sliding9, in part due to China's desire to overcome its pollution problem and the likely introduction of a 6% tariff on Australian coal imports. The low coal price affects the economic viability of the coal mines and could make large-scale investment in their development unattractive. Avenues still exist to influence the final outcome.

Membership/Donation Form
I'd like to become a member via EFT or cheque
The form below may be used for membership payments and/or donations. Any amount from $1 to $1,000 may be entered. Form is in USD. Please convert donation amount if in AUD into USD, for example if you wish to donate $10 AUD, enter $8.69 USD (12 November 2014). If the amount exceeds $10, the extra amount will be counted as a donation. Please leave a comment in the comment box below indicating whether you wish the amount to be a membership fee, donation or both. Thank-you very much. Completing a Membership transaction comprises an agreement to abide by our Rules, under the Qld Associations Incorporation Act (1981).
References