The premiere screening of Bimblebox a huge success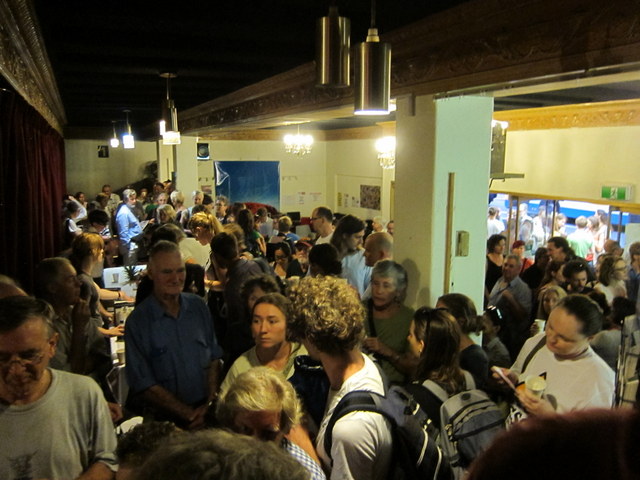 Following the premiere of Bimblebox at the Byron Bay Film Festival on March 11th there were sell-out screenings also held in Toowoomba and Brisbane. Before a crowd of several hundred people spilling out of Tribal Theatre in Brisbane on March 13th, Bimblebox co-owner Paola Cassoni delivered a heartfelt speech about the predicament facing Bimblebox, and the significance of this case for all of us.
QLD election results: Will Clive Palmer get red carpet treatment to dig up Bimblebox?
Queensland had a change of government on Saturday 24th March. After nearly 23 years of a Labor government, the Liberal-National Party (LNP) is now in power, with Campbell Newman at the helm. What does this mean for Bimblebox Nature Refuge and other conservation areas threatened by mining? It's hard to say, but there were some interesting developments in the lead up to the election.
The Lock the Gate Alliance conducted a questionnaire prior to the election, asking the ALP, Greens, KAP and LNP what their position was on various aspects of mining. The LNP answered YES in response to the question "Will you protect biodiversity by prohibiting coal mine development and associated infrastructure in Nature Refuges and other areas of high conservation value?" The same answer was given by the Greens and the KAP, but the ALP did not respond at all.
An answer to a questionnaire is of course not a hard policy decision, but the LNP will be pressured to stick to this position given that both Anna Bligh and Bob Katter have specifically said elsewhere that they would protect Bimblebox Nature Refuge from Clive Palmer's proposed mine. There will be many people keen to scutinise the LNP's actions in this case given that Clive Palmer is the LNP's largest financial donor.
Significantly, GetUp! launched an online campaign to protect Bimblebox and other areas of high conservation value in the lead up to the election, and the matter was raised in Federal Parliament on the 22nd March when Senator Larissa Waters asked Senator Conroy what the Federal Government will do if the LNP gives Palmer's project the green light and how they will justify the spending of tax-payers money to help protect Bimblebox in 2000, only for it to be mined by Waratah Coal in 2013. After a lot of stalling Senator Conroy eventually said "We will be very carefully making sure that all rules and laws are complied with"… which still offers little certainty for landholders investing the time, energy and money into biodiversity conservation. For the full transcript, you can download it here.
Senator Water's question followed a flight that she and Senator Bob Brown made over Bimblebox Nature Refuge in late February 2012. Listen to Bob Brown's press conference here:
".. Clive Palmer has got a plan now to open one of the world's largest coal mines… it's going to swallow up most of the Bimblebox Reserve in central Queensland. I flew over that magnificent reserve just a week ago with Larissa Waters… and it's a National Treasure..." – Bob Brown